Tonight, Tuesday, March 21st will be the Candidates Forum hosted by the Kankakee County NAACP at Lorenzo R. Smith School. At 5:30 pm, hear from the Pembroke School Board Candidates, and at 7:00 pm hear from the Mayoral Candidates.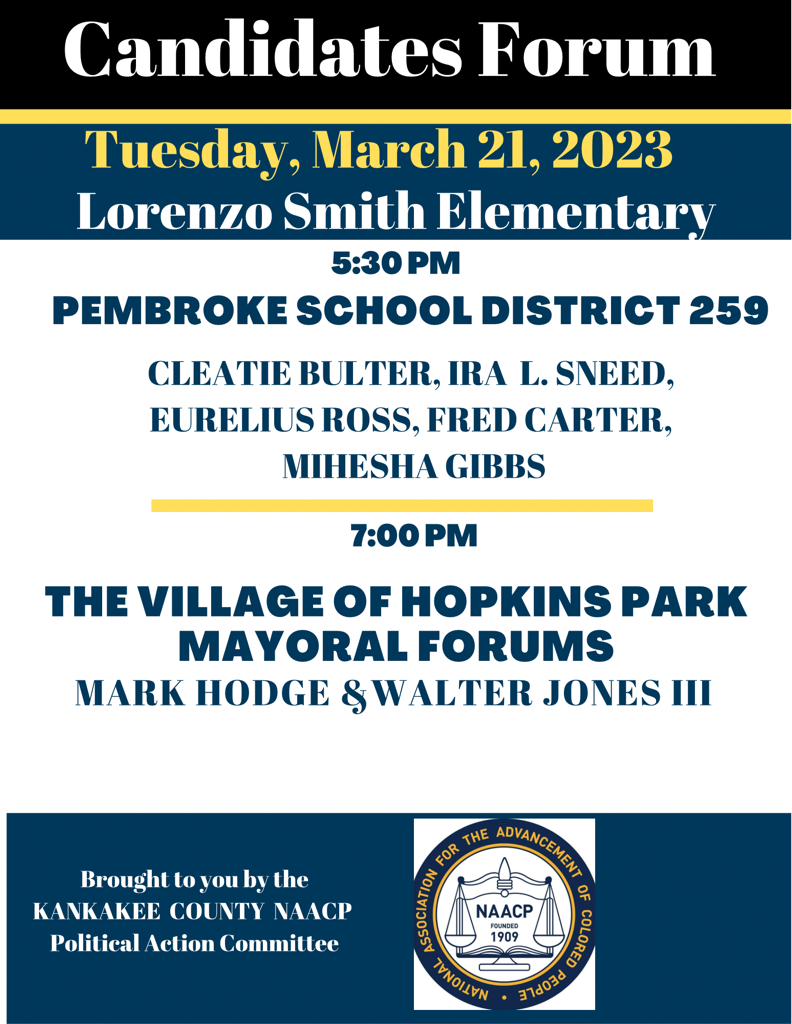 UPDATE: Good evening Pembroke Family, Due to the forecasted severe winter weather in the afternoon and evening hours of Friday, March 3, St Anne has announced an early dismissal. Because we share buses, we will have early dismissal as well. Students will be dismissed at 12:45 PM. There will be no after school activities. If any other changes are necessary we will be sure to notify our families as soon as possible. Thank you and be safe! Go Mustangs!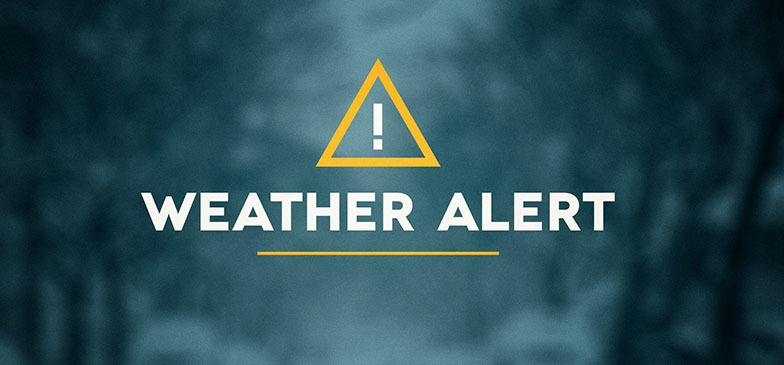 ACTUALIZACIÓN: Buenas noches, familia de Pembroke. Debido al clima invernal severo pronosticado para la tarde y la noche del viernes 3 de marzo, St Anne ha anunciado una salida temprana. Debido a que compartimos autobuses, también tendremos salida temprana. Los estudiantes saldrán a las 12:45 PM. No habrá actividades después de la escuela. Si es necesario algún otro cambio, nos aseguraremos de notificar a nuestras familias lo antes posible. ¡Gracias y cuídense! ¡Vamos Mustangs!
Greetings Pembroke School District Families, In preparation for the winter storm being projected for our area tomorrow, Friday, March 3, 2023, we are utilizing weather reports including information being received from the National Weather Service to determine our course of action. At this moment, we will be in attendance for tomorrow. However, based on current reports there is the possibility of an interrupted day. If an interrupted day is necessary students will be released at 12:45p. Lunch will be provided. Please note, this is informational only at this time and is subject to change. As of now, we will be operating under our normal school schedule for tomorrow, Friday, March 3, 2023. However, we are informing our families to allow time to put a contingency plan in place should students need to be released early. As more information becomes available we will continue to provide updates. Thank you for your cooperation and understanding.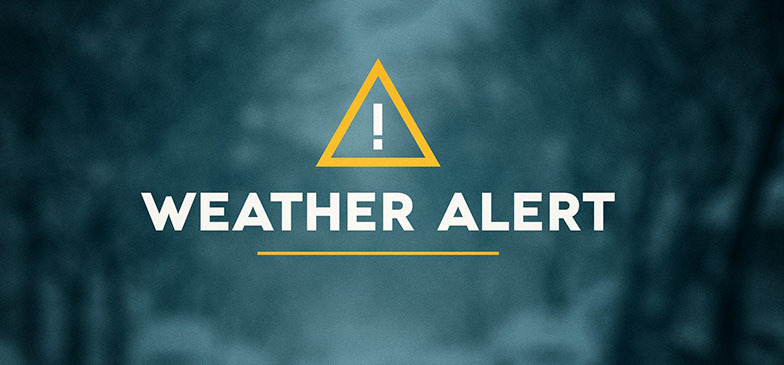 Saludos familias del distrito escolar de Pembroke, En preparación para la tormenta de invierno que se proyecta para nuestra área mañana, viernes 3 de marzo de 2023, estamos utilizando informes meteorológicos que incluyen información recibida del Servicio Meteorológico Nacional para determinar nuestro curso de acción. En este momento, estaremos presentes para mañana. Sin embargo, según los informes actuales, existe la posibilidad de un día interrumpido. Si es necesario un día interrumpido, los estudiantes saldrán a las 12:45 p.m. Se proporcionará almuerzo. Tenga en cuenta que esto es solo informativo en este momento y está sujeto a cambios. A partir de ahora, estaremos operando bajo nuestro horario escolar normal para mañana, viernes 3 de marzo de 2023. Sin embargo, estamos informando a nuestras familias para que den tiempo para implementar un plan de contingencia en caso de que los estudiantes necesiten salir temprano. A medida que haya más información disponible, continuaremos brindando actualizaciones.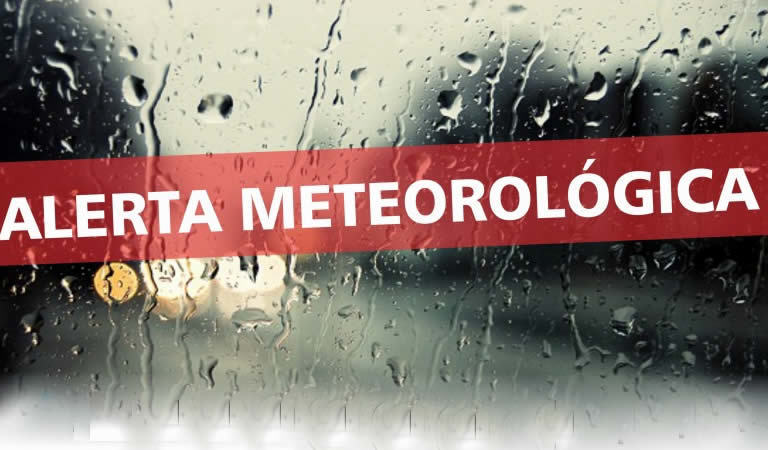 Únase a nosotros en el próximo Pasteles con los padres el miércoles 8 de marzo de 9 a. m. a 10 a. m. en el Centro SAFE de la Escuela Lorenzo Smith. Tendremos café caliente, jugo frío y pasteles. Harbor House compartirá con nosotros consejos sobre "Cómo tener conversaciones difíciles con sus hijos". Este evento es gratuito. Su estudiante recibirá dos Mustang Bucks por su asistencia. Reserve su lugar llamando al 815-944-5219 o enviando un correo electrónico a
ttwest@pembroke.k12.il.us
.
Please join us at the next Pastries with Parents on Wednesday, March 8th from 9am to 10am in the SAFE Center at Lorenzo Smith School. We will have hot coffee, cold juice and pastries. Harbor House will share with us tips on "How to have tough talks with your kids." This event is free. Your student will receive two Mustang Bucks for your attendance. Please reserve your spot by calling 815-944-5219 or emailing
ttwest@pembroke.k12.il.us
.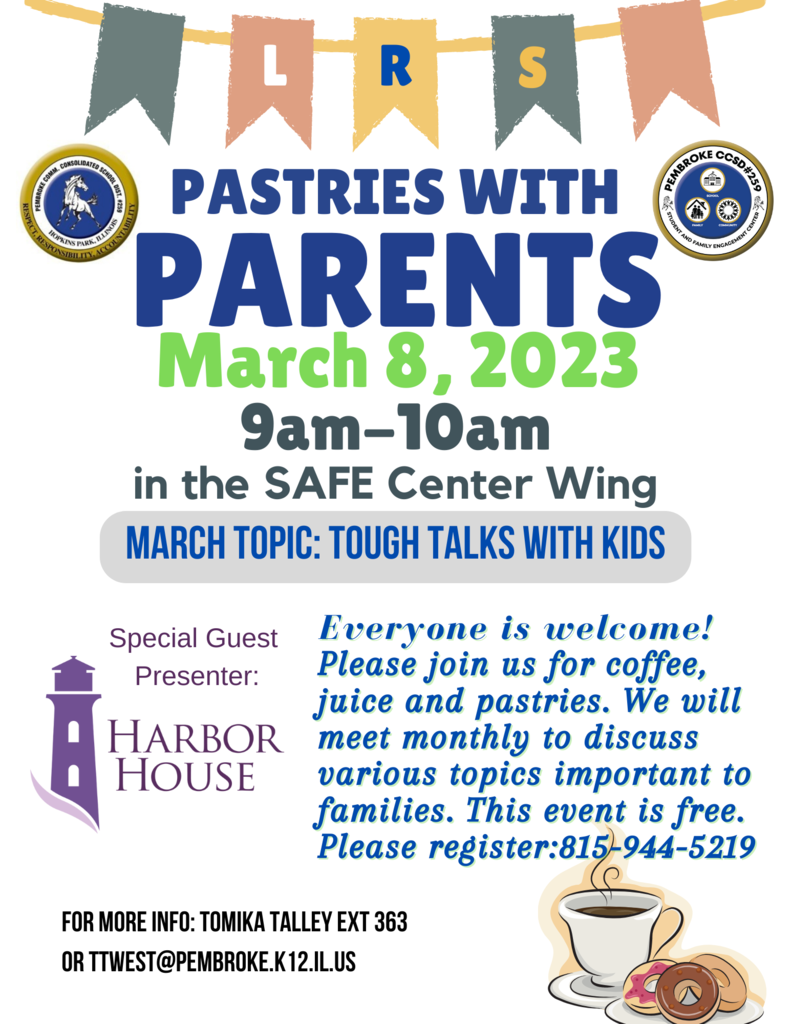 Pembroke Community Consolidated School District 259 will join the Illinois State Board of Education in the eleventh statewide survey of school climate and learning conditions. The survey provides a unique opportunity for students, teachers and parents to have a voice in improving their schools. February 3 through March 31, students and teachers will be asked to take the research-based survey to help identify strengths and weaknesses in their school's learning environment. The parent survey supplement will also be administered during the same survey window. These surveys will serve as an opportunity for schools to reflect on progress since the last statewide implementation.
Join us for the next session of Pastries with Parents! Educational Consultant, Dr. Denean Adams will be our guest speaker and share valuable information to assist your student with standardized testing. Testing for LRS will begin in March and this session may help ensure the success of your student. This is a free event! Please register by calling 815-944-5219 or email
ttwest@pembroke.k12.il.us
Please join us Thursday, January 26th at 4:30 pm in the first home volleyball game of the season! Let's go Mustangs, Let's Go! #OnceAMustang #AlwaysAMustang #LRSBuiltStrong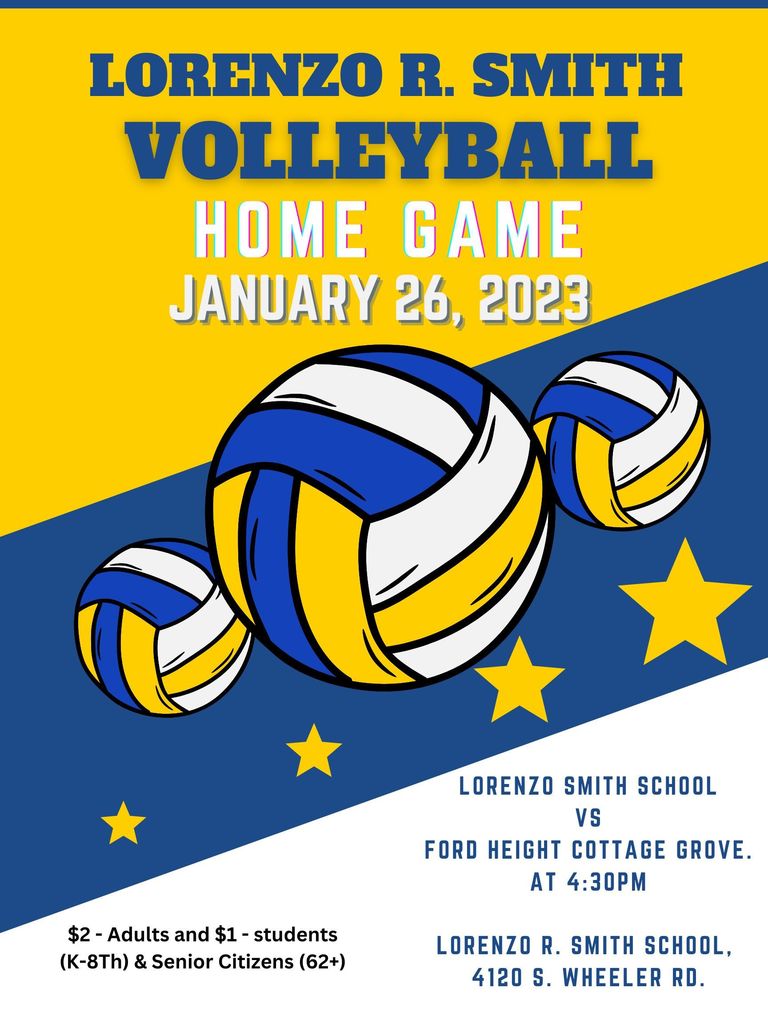 Join us! Tomorrow, Tuesday, December 20th, from 9:30am-11am, at Lorenzo R. Smith School, for our Christmas Program. All grade levels will be performing. This is an event you do not want to miss. Students are Ho-Ho-Hoping to see you there.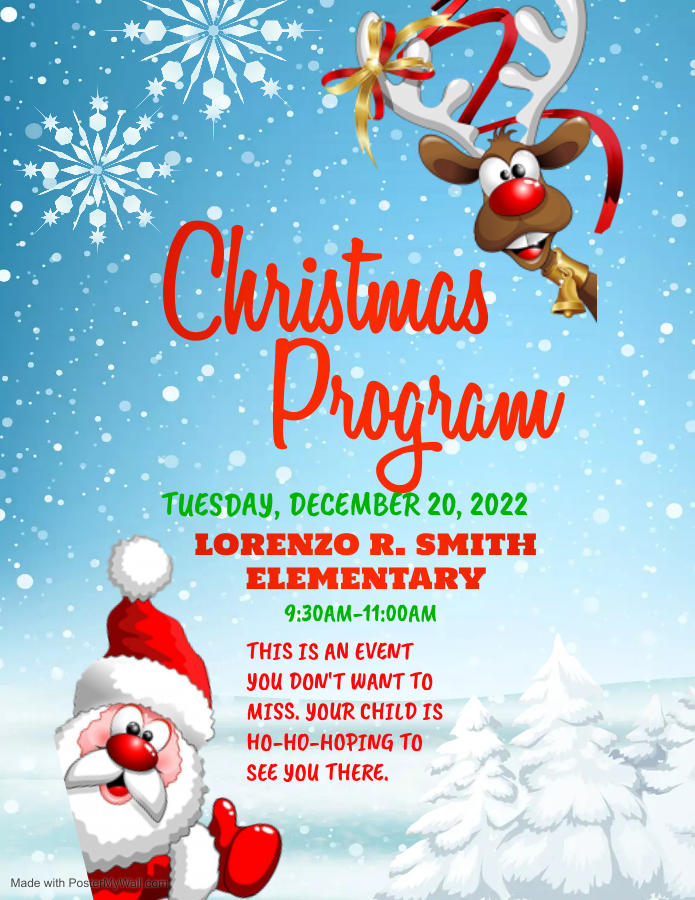 Please RSVP to 815-944-5219 and join us for Soup with the Superintendent on Thursday, December 15th from 4:00pm to 6:00pm where Pembroke Community Consolidated School District's very own, Dr. Nicole Terrell-Smith will discuss the district vision and current initiatives while breaking bread with the community. We hope you are able to join us and look forward to hearing your thoughts. Confirme su asistencia al 815-944-5219 y únase a nosotros para una sopa con la superintendente el jueves 15 de diciembre de 4:00 p. m. a 6:00 p.m donde la Dra. Nicole Terrell-Smith, del Distrito Escolar Consolidado de la Comunidad de Pembroke, hablará sobre la visión del distrito y las iniciativas actuales mientras parte el pan con la comunidad. Esperamos que pueda unirse a nosotros y esperamos escuchar sus pensamientos.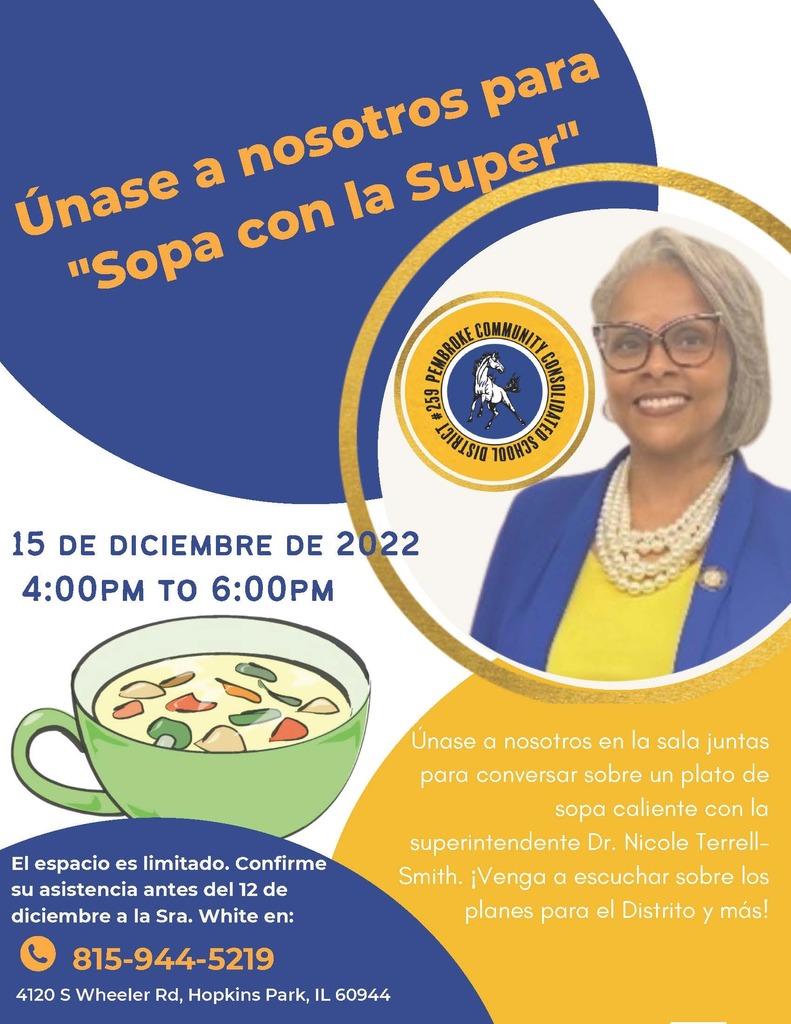 The 22-23 School Year Calendar has been amended. The following changes have been made... December 22, 2022: Early Dismissal December 23, 2022: No School April 6, 2022: School in Session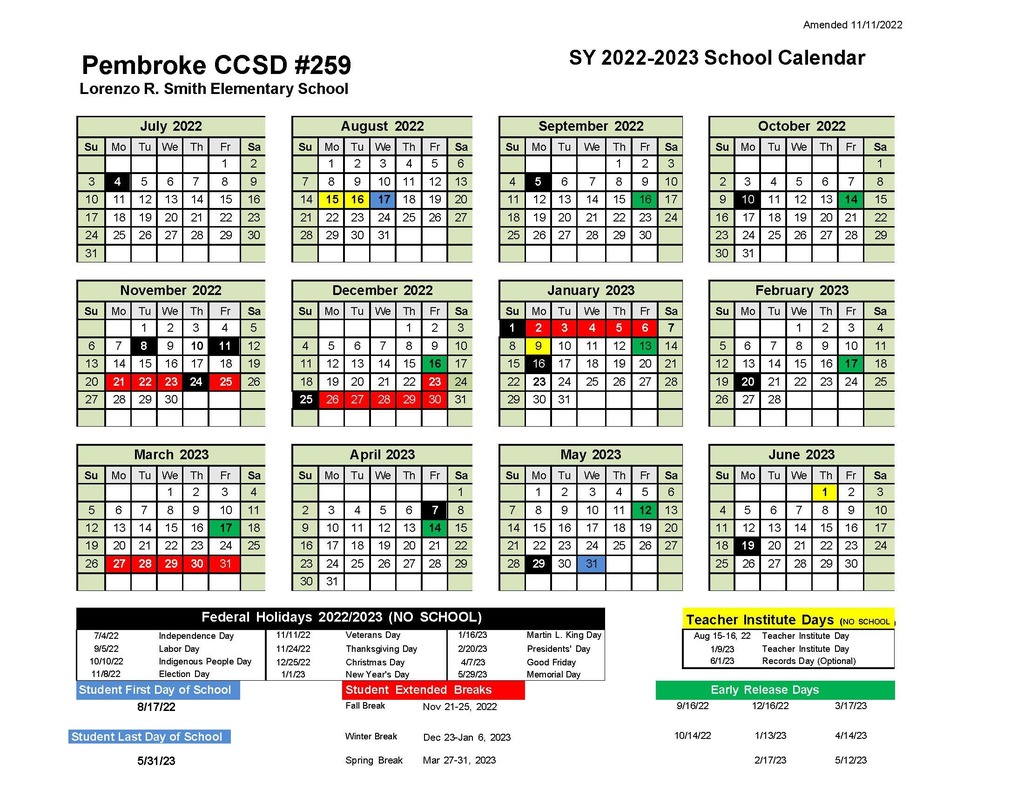 We still have Mums FOR SALE! The LRS Greenhouse Club grew Mums in the greenhouse this year. We have about 20 left at $10 each. To purchase, you may send money in with your child or come pick it up from the school. Thank you for your support!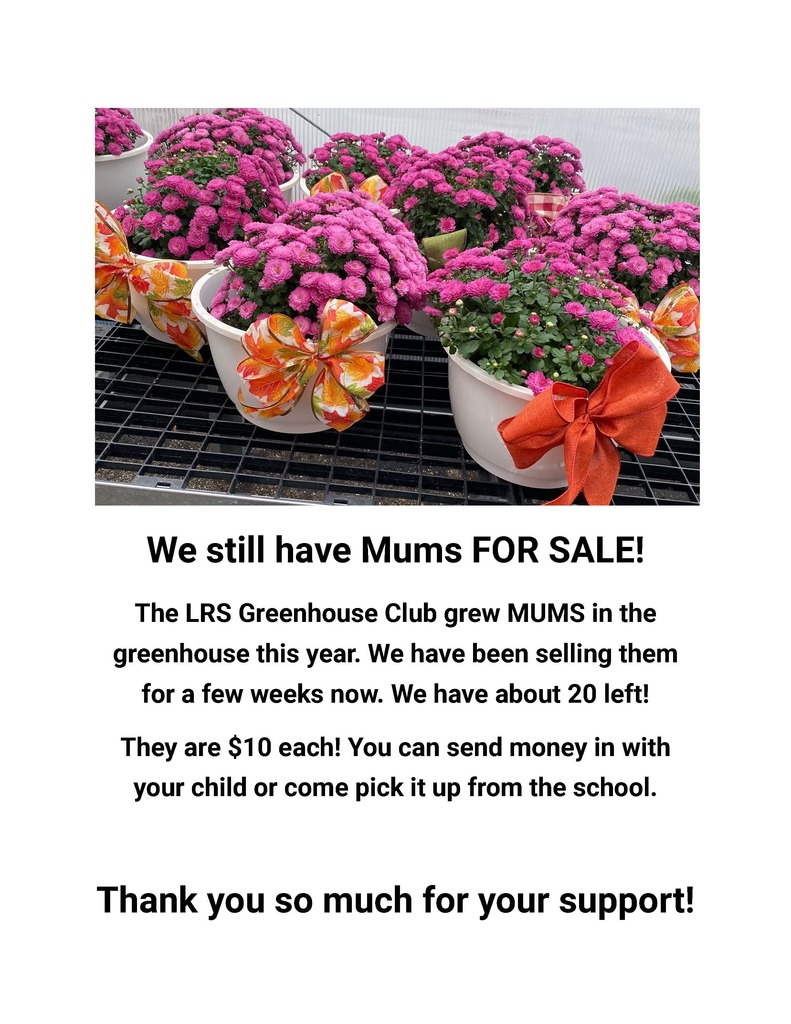 Parents/Guardians, you are invited to join us on Thursday, October 27, 2022 from 5 to 7pm. for Parent Teacher Conferences. It is an opportunity to meet your child's teacher and visit their classroom. Help your child earn a reward for your attendance. We hope to see you there!

Do you need help paying your heating or water bills? The 2023 Low Income Home Energy Assistance Program/Low Income Household Water Assistance Program MAY HELP! Call KCCSI to make an appointment at 815-933-7883 Ext 219 or 234. All appointments will be held at Lorenzo R. Smith from 9:00am-12:30pm in the SAFE Center. No Walk-Ins accepted.

REMINDER: Tomorrow, Friday, October 14th, is a Professional Development Day. Students have Early Dismissal at 1pm. Also, students may wear jeans and a red shirt in celebration of Fire Safety Week. For questions or concerns, please call the main office at 815-944-5219.

Greetings All! On Saturday, October 29, 2022, from 1pm to 4pm the Pembroke School District #259 will host a Fall Harvest Festival on the campus of Lorenzo R. Smith located at 4120 S. Wheeler Road, Hopkins Park, Illinois. The festival will feature a Mums Sale from the LRS Greenhouse Club, a Pumpkin Paint & Sip Cider Station, a Trunk or Treat with prizes for the best trunk display, a costume contest, and more! Registration is required for the Trunk or Treat by calling 815-549-6478 or 815-944-5219 ext. 363. All families are welcome and encouraged to attend. There is no cost for this event. If you would like to donate some items to contribute to the success of the event, we are in need of sweets for the "cake walk", and volunteers to assist with the activities are welcome! If you have additional questions, please do not hesitate to contact me. Best regards, Tomika A. Talley-West, Program Manager (815)944-5219 ext.363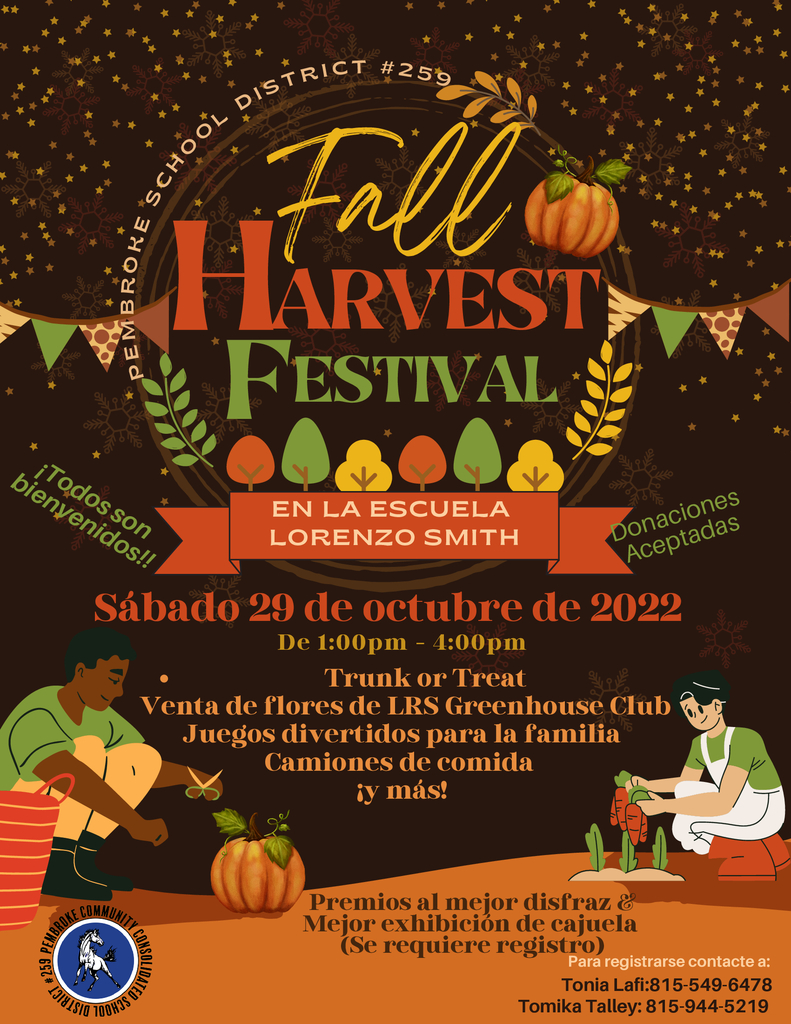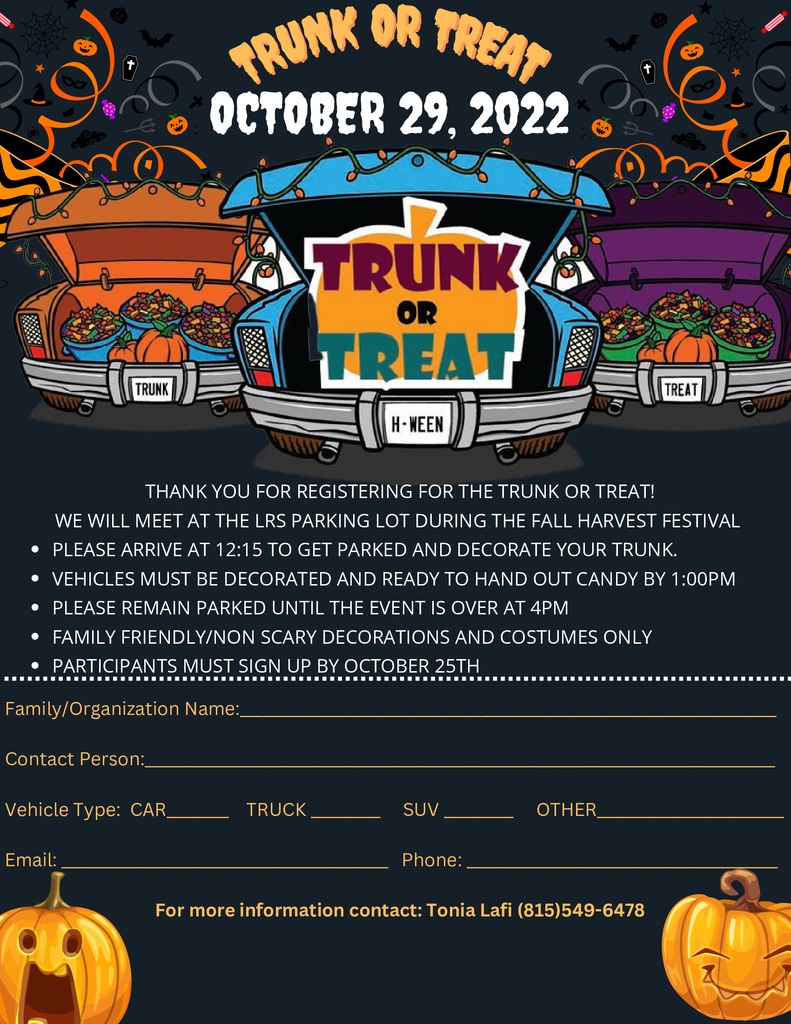 Mustang Parents, We'd like to invite you to volunteer in our classrooms by joining the Parent Mentor Program. To register and for more information, please call Ms. Talley West at 815-944-5219. Ext. 363.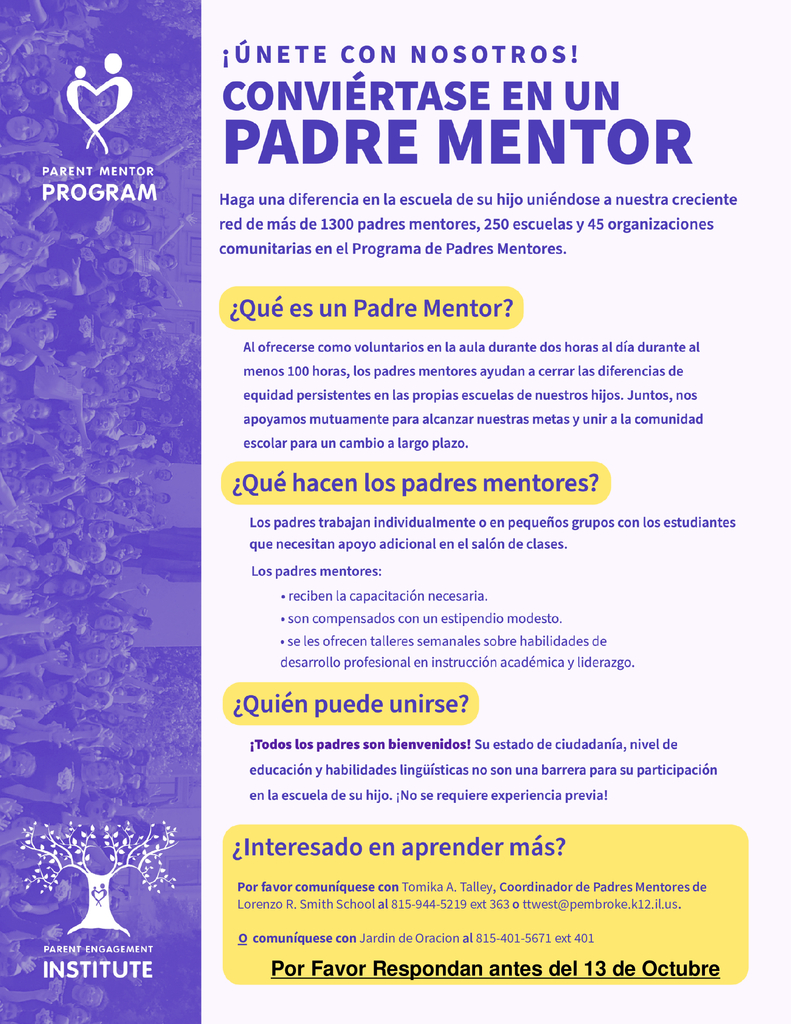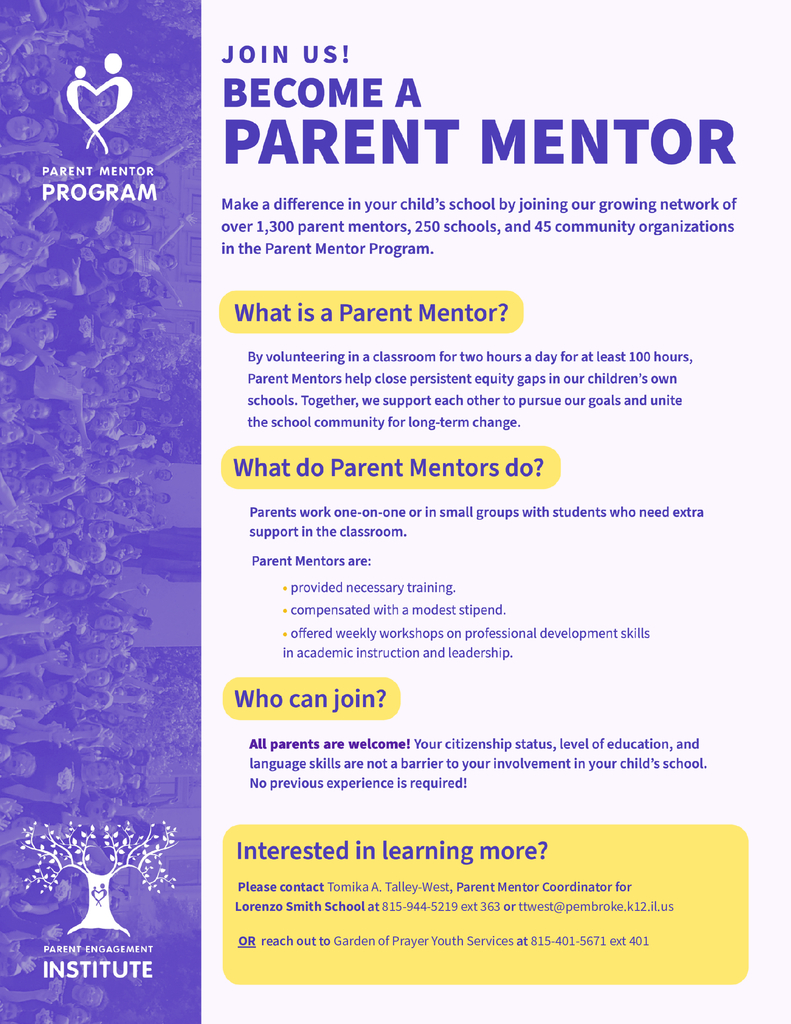 Update: Due to the power outage we are closing the school today. Transportation is in place to return students home. Actualización: Debido al corte de energía, cerraremos la escuela el dia de hoy. El transporte regresara a los estudiantes a casa.